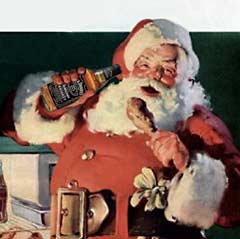 For most people, the holiday season – which includes Christmas and the New Year celebration – is a special time of joy and celebration.   We have a chance to give our thanks to God for all His goodness and a chance to rejoice in the birth of the Savior.   It is also a time to welcome in a new year with all the hope and promise it brings.
Yet, we must never forget that for people who are just beginning to walk the road of recovery from addiction to alcohol and drugs, this is an extremely difficult and stressful time.   For several reasons, this time of year means we are very vulnerable to a relapse.
Let me offer a few simple thoughts that might help them make it through this holiday season:
A.   Remember the spiritual significance of the holidays –  This time of year is a major commercial event for America's retailers.   For some, more than half of our revenue is generated in the final ten weeks of the year.   As a result, we are bombarded with marketing messages that encourage us to spend beyond our budgets.   Despite the commercial pressure, we need to keep our focus on the spiritual significance of the holidays.   Our focus in November ought to be thankfulness – an attitude of gratitude.   And we must never forget that when it comes to Christmas, "Jesus is the Reason for the Season".   Above all else, we are celebrating God's sending of His only Son to be our Savior and Redeemer. Keeping a spiritual focus puts all of our other expectations for the holiday season in proper perspective.
B. Don't isolate –  For most Christians, the holidays are a time for family and other important relationships. For the newly recovering addict, especially those in residential programs, the holidays can be the loneliest time of the year.
Newly recovering addicts face two special challenges during the holidays.   On one hand, the holidays serve as a painful reminder of all the relationships they've messed up.   To many recovering people spend Christmas haunted by memories of loved ones and friends that have been alienated because of destructive and manipulative behavior.   So, there is a real tendency to fall into self-pity and remorse.   In order to compensate for the loneliness, some will take an equally destructive path; falling in with the wrong people.   To keep our sobriety, people who are still using alcohol and drugs, must be avoided at all costs
So, what's the solution?   This is the time take advantage of new, sober acquaintances God has brought into our lives.   Reaching out to those around us and using this holiday season s as a special opportunity to get to know them better is the best antidote for that special sense of loneliness that comes with the holidays.
C. Use the holidays as a special opportunity for making amends –  Instead of dwelling on failed relationships, the holidays provide a special opportunity to restore some broken relationships.   This is the time to make a list of those people and creatively consider ways to reconnect with them.   While it is not always possible to make amends to everyone that might come to mind, there will always be a few of them, especially family members, to whom amends can be made.   Some of those who have not heard from us for some time might actually consider your getting in touch with them to be a special gift this holiday season.   Talk to a counselor or sponsor about this and get some input before embarking on this important step in your recovery process.
D.   Give gifts from the heart –  It's easy to feel a load of guilt and shame about not having resources to give presents and other tokens of love to those around you.   There are other types of "gifts" that can be just as meaningful: a simple card (even homemade), phone calls or visits, lending a helping hand with a special project.   There is a virtually unlimited number of ways to show people around you that you care that don't require a lot of cash.   Be creative!
E Share your feelings –  The holidays can bring back a host of confusing feelings and memories.   Sometimes we're tempted to dwell on "good times" that involved drinking and drug use.   For some, this time of year provokes painful childhood memories if we grew up in a troubled home.   Others experience loads of stress, disappointment, and loneliness during the holidays.   The worst thing to do is to keep all these feelings bottled up inside.   Find trusted sober friends and support groups where you can share what is going on within you.   This is a sure fire way to keep them in perspective and work through all these emotions in constructive and healthy ways.
F. Find healthy ways to celebrate the season –  For some of us, it's hard to imagine a Christmas or New Year's Eve without alcohol and drugs.   But, for newly sober people, this time of year can be a chance to rediscover how to have fun without mind-altering chemicals.   Take a few moments to find out what is happening in the church and what other Christian and sobriety-based events are happening in your community – and participate in them!
G. Have realistic expectations –  Most post-holiday disappointments are the result of expecting too much.   Keeping Christmas as primarily a spiritual celebration also keeps our expectation in reality, too.   We may find this holiday season is not the exciting and joyous experience others seem to make it out to be.   Maybe no one seemed to have reached out to us in any special way.   Maybe we did not handle all the stress of the holidays, as we would have liked to.   So what?   Making it through the holidays without using drugs or alcohol could actually be the most significant thing we managed to do this holiday season.   This, in itself, is a major accomplishment.