Guide to Effective Rescue Mission Recovery Programs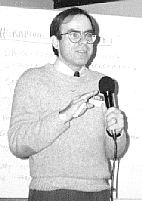 This resource was originally published by the Association of Gospel Rescue Missions (now CityGate Network) in 1993 and then updated in 2001. While out-of-print, I continue to receive requests for the information. So, I have decided to place most of it on this website because all of it is actually quite timeless. These are proven principles that will help any program for people with substance use disorder become more effective.
It was originally packaged as a set of twelve recorded workshops with nearly 200 pages of supporting materials. These talks were given to rescue mission workers at various AGRM training events. However, the principles I shared are appropriate for anyone involved with helping alcoholics and drug addicts and their family members. I share many special insights learned from working for many years with homeless addicts, especially in residential recovery program settings.
The link to the PDF file below allows you to download the printed portion of the guide. It has the handouts that were used with most of the recorded lectures plus the Supporting Information from the Table of Contents and from Section B.   The PDF file has active links to the recordings which are stored online. So, if you save it to your PC, you can simply click on the title and listen to the workshops as long as you are connected to the Internet.
Worksheets from the Guide to Effective Rescue Mission Recovery Programs (download PDF File)
Table of Contents
Section B – Supporting Information
About the Speaker
Introduction
Effective Support Groups
Answers to the Most Frequently Asked Questions About Addiction and Rescue Mission Recovery Programs
Registration
Michigan Alcohol Screening Test
Topical Index of Bible Verses for People in Recovery
Suggested Resources
Section A – The CDs Introduction to the CDs
Section C – 2001 Update
Note: These audio lectures and handouts make up a large portion of the 3-credit City Vision University course, Managing Residential Recovery Programs.
 ©1993, 2001 – Association of Gospel Rescue Missions. All rights reserved. Reproduction of any part of this book or the accompanying audios is limited to the users own use only. No part my be used in any commercial products without written permission from the publisher.